1:16 pm
[nurdbunny]

We finally figured it out! The snuggly warm dog hat and scarf is finally here! After some long, hard, tedious work, we finally got them past production! We made them in 3 sizes, XS, SM, M/L. We're also almost done with the slotted hats for the ears to poke out of. I'll post images of those when they're finally ready as well!
</div>

Thanks everyone for all the feedback and suggestions! You flippin' ROCK!
(modeled by Stewie & Lucy wearing the size M/L)
12:20 pm
[nurdbunny]

So last night I was going through last winter's bag of ideas for winter dog hats and I found this funny red corduroy one which Stewie just loves to wear. I always laugh so hard when he wears this one but it poses a good question for this season's line of winter-wear....
QUESTION:
What is in more of demand by the customer???
a) Dog hats with cute lil teddy ears on the side or
b) Dog hats with lil slits for the pet's real ears to poke out of?
Help me out here... Let's put it to a
VOTE
!
Reply to this post and tell me your opinion.
7:45 pm
[nurdbunny]

Mr. Sway!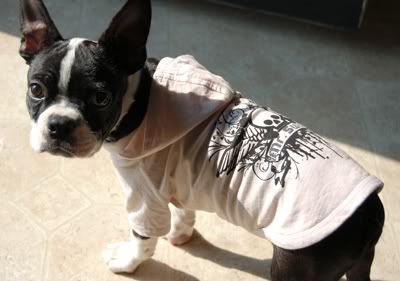 OMG! Check out this adorable nonsense!!! One of our customer's sent us in a photo of her boston terrier
Mr. Sway
wearing his customized & personalized carmel dog hoodie! Just look at his face! My my my, I can barely stand it!
11:17 pm
[nurdbunny]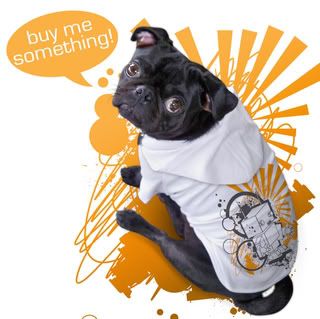 Stewie sportin his new hoody!
And yes....he was dead asleep, snoring his brains out not even 10 seconds after this pic was taken! lol.
7:09 pm
[nurdbunny]

MAX in the Suki Skull Harness!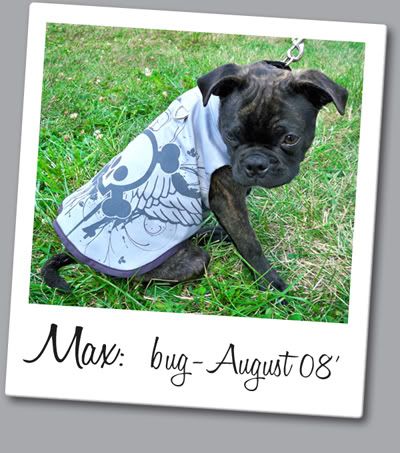 I just really love the way this pic turned out saturday! Wanted to share it with everyone!
6:53 pm
[nurdbunny]

hi!
This is Stewie (left) and Lucy (right). They enjoy dressing up, snoring, grunting and feasting on daddy's black socks...